Art exhibit features two iconographers
Wednesday September 8 - Saturday October 30
Saint Meinrad Archabbey Library Gallery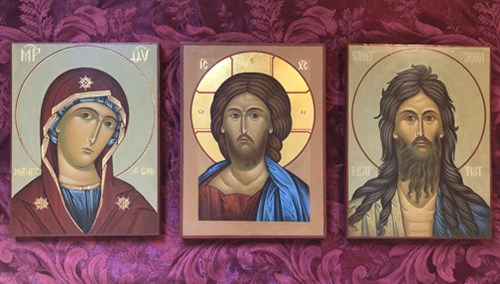 "Holy Faces: Traditional Icons of Our Lord, His Mother and the Saints," an exhibit of icons, will be on display from September 8 through October 30 in the Saint Meinrad Archabbey Library Gallery, St. Meinrad, IN.
The gallery will exhibit works by Connecticut artist Marek Czarnecki and Sr. Jeana Visel, OSB, of Ferdinand, IN. There will be an opening reception on September 12 at 3 p.m. Central Time.
Developed, practiced and preserved primarily by the Eastern Rite, icons carry a patrimony of both theology and art. Unlike naturalistic portraits that seek to create the likeness of an individual at a particular time in his life, icons convey essential dogmatic and biographical information that embody the saint depicted.
The practice of iconography is often learned as an apprentice. Czarnecki studied under Russian Orthodox iconographer Ksenia Pokrovsky. Czarnecki uses natural materials to make the icons. Linen is glued to a wood panel and primed with a marble-based gesso. It is then painted with egg tempera mixed with natural earth and mineral pigments. The halos and backgrounds are gilded with 22-karat gold. A copal resin varnish completes the work.
Czarnecki has received a variety of awards for his work, including two artist fellowships from the Connecticut Commission on the Arts.
His icons can be found in churches across the country, including the Franciscan University of Steubenville, OH, and the Cathedral of the Immaculate Conception in Springfield, IL.
Sr. Jeana apprenticed in icon writing with Czarnecki and has been writing icons since 2006. Icons have been a major part of her academic work and were the subject of her master's thesis (revised and published by Liturgical Press as Icons in the Western Church: Toward a More Sacramental Encounter) and her doctoral treatise.
For library hours, call (812) 357-6401 or (800) 987-7311 or visit the Archabbey Library's website: www.saintmeinrad.edu/library/library-hours/.
The exhibit is free and open to the public. Those wishing to view the exhibit may want to arrive at least 30 minutes before closing time.
Photo: Icons by Marek Czarnecki