Exhibit of portraits by Leslie Nichols
Wednesday October 3 - Monday November 19
Archabbey Library Gallery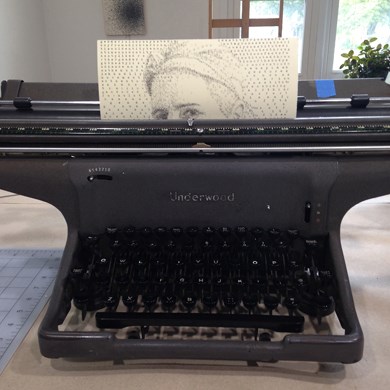 Saint Meinrad Archabbey Library Gallery, St. Meinrad, IN, is hosting an exhibit by Kentucky artist Leslie Nichols.
The show will run from October 3 through November 15.
In this exhibit of portraits called "Textual Portraits," Nichols is interested in visualizing the historical context of women's lives and conveying a sense of social heritage. She uses found and original text relevant to the individual portrayed to create the image.
For example, in the portrait of Michelle Howell, Nichols incorporates passages from the poem Anyway: "If you are kind, people may accuse you of selfish, ulterior motives. Be kind anyway."
Nichols' primary medium is a manual typewriter. She also uses alphabet stamps and letterpress printing. The use of text to create portraits suggests that our lives are the creation of our minds and social construction.
A recent Artist Enrichment Grant from the Kentucky Foundation for Women provided support for Nichols to create large-scale portraits of women working for social change in Kentucky.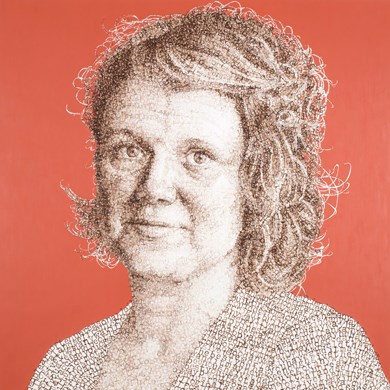 Her work is featured in Typewriter Art: A Modern Anthology published by Laurence King in 2014 and The Art of Typewriting published by Thames and Hudson in 2015.
Nichols earned a bachelor in fine arts degree in painting from Fontbonne University and has a Master of Arts from Western Kentucky University focusing on gender and women's studies.
For library hours, call (812) 357-6401 or (800) 987-7311, or visit the Archabbey Library's website: www.saintmeinrad.edu/library/hours/.
The exhibit is free and open to the public. Those wishing to view the exhibit may want to arrive at least 30 minutes before closing time.
# # # #
Photos: Anyway and Leslie Nichols Typewriter.