Art exhibit features mosaics, paintings
Saturday February 16 - Saturday March 30
Archabbey Library Gallery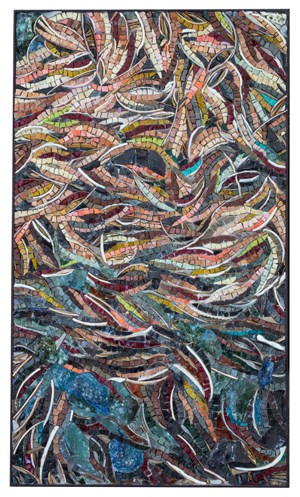 Saint Meinrad Archabbey Library Gallery, St. Meinrad, IN, is hosting an art exhibit called "Saints Inside and Out," a two-person show by Chris Elam of Bloomington, IN, and Karen Glanders of Nashville, IN. The exhibit runs from February 16 through March 30.
The exhibit includes both paintings and mosaics. Elam cuts pieces of stone and glass and places them in mortar to create an image. Glanders paints in acrylic and includes mosaic in her mixed media pieces.
Chris Elam uses the creative process to reflect on an emotion or experience while giving it a tangible form. He says the ultimate goal of his work is to create "beautiful moments, moments of grace."
Elam studied extensively with Italian mosaic artist Matteo Randi at the Chicago Mosaic School. His work can be found in public installations and private collections and has been exhibited locally, nationally and internationally.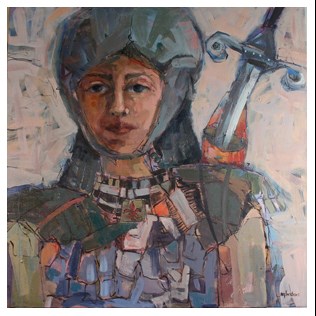 Karen Glanders studies the saints to find a shared human experience of struggles and joys. She calls on her spiritual connection to portray the emotion that best describes a saint's life. Using images and symbols, she makes Christian ideas accessible to our modern culture.
Glanders attended the Herron School of Fine Art in Indianapolis from 1993-1998. She has had a fruitful relationship with Editions Ltd Art Gallery in Indianapolis since 2003.
For library hours, call (812) 357-6401 or (800) 987-7311, or visit the Archabbey Library's website: www.saintmeinrad.edu/library/library-hours/.
The exhibit is free and open to the public. Those wishing to view the exhibit may want to arrive at least 30 minutes before closing time.
Photos: "Pine Needles" by artist Chris Elam and "Saint Joan of Arc" by artist Karen Glanders